alumni profile
La Campione
Alli DEFrancesco / CAS '09
by Rory Evans

Alli D
E
Francesco zips along La Jolla Cove while training.
Coach class on a transcontinental flight is associated with many things—limited legroom, screeching babies, a sense of indignity.
It is not often viewed as a hotbed of inspiration, but that's what it was for Alli DeFrancesco: It was on her way home from New York City to San Diego in 2011, following the memorial service for her Violets swim coach Lauren Beam, that DeFrancesco decided she was going to swim the English Channel.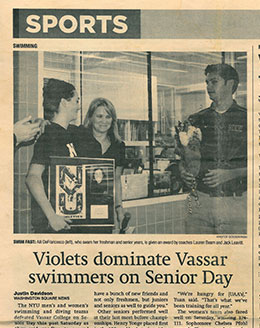 shining as a student with NYU swim coach Lauren Beam.

The feat would not be simply an athlete honoring a mentor who passed away at age 34 from colon cancer but also the triumph of a survivor. DeFrancesco had only recently recovered from Hodgkin's lymphoma herself.
For months preceding her diagnosis in 2009, the coed had felt horrible. During her last semester at NYU, "Like clockwork, I'd roll into senior seminar with a high fever," she says. "I was on five rounds of antibiotics. Whenever I drank alcohol, I had severe pain in my arm that radiated down to my fingertips. This is a telltale sign of Hodgkin's, but when you're young—and an athlete—doctors are like, 'You're in college. You drink too much.' " After the Hodgkin's was finally discovered, her first chemotherapy treatment at Scripps Medical Center in La Jolla, California, happened on the same day that her class celebrated graduation at Yankee Stadium. "One day I ran 10 miles, and the next, I had lost my hair, control of my body, much of my short-term memory and with that, my identity," she says.
After nearly two years of grueling chemo, radiation, and a bone marrow transplant, DeFrancesco finally returned to relative health (there's still a so-called "stable" mass in her chest that her oncologists monitor closely). Having been so ill, she realized "[this] was an opportunity. I'd been blessed with a second chance." She wanted to say thank you to her late coach, who was "the best part about being a college athlete for me," DeFrancesco says. "She saw my potential."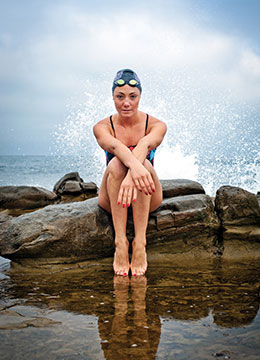 A rare moment of inactivity.
Selecting the best way to pay homage to Beam was a no-brainer. "Mention cancer to anyone and they wince," she says. "I wanted to do something recognized as universally challenging as cancer, and when you mention the English Channel, you don't have to offer too much of an explanation."
At its narrowest, the Channel is 21 miles across. At its warmest, the water hovers around a bracing 65 degrees. Its currents can be parabolic, erratic, and deadly. "The Channel is the reason Napoleon never invaded England," DeFrancesco says with a laugh. Even so, she and her humble Speedo were determined to do what Bonaparte dared not (to qualify as an officially recognized crossing, wet suits are banned).
Preparing for the cold water entailed blasting the AC in her car, soaking in a kiddie pool filled with ice, and swimming long distances in brisk waters along the California coast, sometimes through known breeding grounds for great white sharks. While training, DeFrancesco had a dream about Beam: The student told the coach, "I'm swimming the English Channel for you," and the coach replied simply, "I know. It's the right thing."
This past August 28th, DeFrancesco and her pilot boat (with an independent observer) launched from Samphire Hoe, near Dover, in the dark at 3 AM. For the next 11 hours and 14 minutes, DeFrancesco swam. The only time she went "vertical" in the water—the equivalent of sitting down during a marathon—was when a tanker neared. "I played music in the jukebox in my head. I had the 'Purple People Eater' song stuck for at least three hours," she says.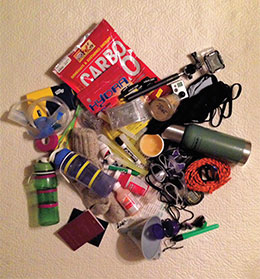 the survival kit she kept on hand during her crossing.

Throughout the swim, the crew transposed text messages for her on a white board. One read, "You fought cancer. You will finish this." DeFrancesco yelled back a proud correction: "I beat cancer!" With the rocky cliffs of Cap Gris Nez within view, "I had an out-of-body experience," she says. "It was like, 'How cool is this? I am swimming the English Channel!' I had the sun on my back, I was crying into my goggles, and I didn't feel cold."
In honoring Coach Beam, DeFrancesco also became the first Italian woman in history to swim the Channel (thanks to her dual citizenship in Italy). "Physically and financially, these kinds of swims are insane," she admits, and not so unlike her battle with cancer. She notes that both involved "taking a risk, committing to a plan, preparing for the unknown, knowing the possibilities, and using all of your energy to fight for the best outcome."
---
Photos from top: © RYAN RITCHEA; © Kristof Goeser for WASHINGTON SQUARE NEWS; © Meg Haywood-Sullivan; © Alli DeFrancesco