interactivity
The Accidental Humanitarian
A motor city kid finds his calling in NYC—an app to help lost children everywhere
by Kate Meyers
What's the trajectory for a teen who decorates the venetian blinds in his suburban Detroit bedroom with strips of Violent Femmes and A Tribe Called Quest band posters?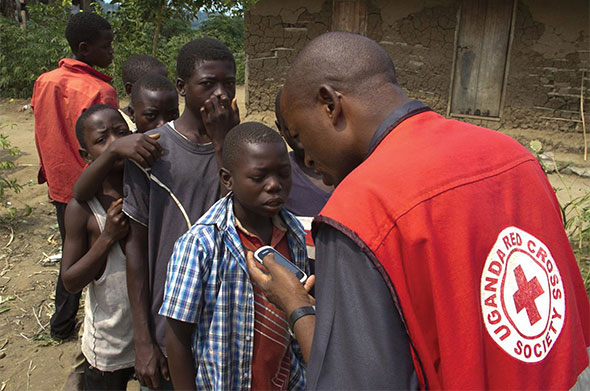 An aid worker in Uganda uses the RapidFTR app to reunite displaced Congolese children with their families.
For Jorge Just (TSOA '10), there was that internship with This American Life, then a stint as social media marketing gonzo for the indie band OK Go, and copywriting for Warner Bros. Records. But his most inspired work started in 2009 as a grad student in the Tisch School of the Arts' Interactive Telecommunications Program.
Taught by Clay Shirky, the Design for UNICEF course has groups of students examine challenges the fund faces, then brainstorm solutions, which they present to the organization at the end of the semester.
Just's group became interested in how aid workers document displaced people. Together, they masterminded an app they named RapidFTR—the initials stand for Family Tracing and Reunification—and it's a game changer. The smartphone-based cataloging system can cut down from more than six weeks to mere hours the time it takes emergency workers in war- or disaster-ravaged zones to reunite lost children with their families.
What followed was three whirlwind years of devotion. It became Just's thesis, and UNICEF helped underwrite development of the prototype. The London office of global software company ThoughtWorks not only donated its programming skills but also rallied hundreds of volunteers for coding jam sessions. And Just visited Africa four times, meeting with UNICEF workers to help unwring kinks as they came up during real-world use.
RapidFTR officially debuted in February 2013, reconnecting Congolese refugees at a settlement camp in Uganda. It came to the rescue again last fall after Typhoon Haiyan in the Philippines, and so far has assisted more than a thousand children worldwide.
The app enables each child's information and photo to be saved and immediately shared. The new system eliminates the need for hard-copy forms, which previously, after being filled out, had to be physically walked across a camp, a city, or an entire region. "We would go around with a list of names and ask people if they knew these children," Fatuma Arinaitwe, a child protection officer with Save the Children, told UNICEF of the days before RapidFTR.
Just himself has experienced something of a homecoming, returning to assist Shirky as an adjunct professor of the class that started it all.
"It wasn't my goal to become a humanitarian," Just says. "But there was a point where, if everything went well, we could help children and families in unimaginable circumstances…and it just felt like, well, there's an obligation to do that then."
---
Photo © Isaac Kasamani