alumni profile
New Music for the Masses
Joanne Abbot Green / STEINHARDT '80
by Rich Bienstock
Joanne Abbot Green has a modest dream—to be just one among the tens of thousands at the annual CMJ Music Marathon & Film Festival where, for the cost of a badge, spectators are privy to performances by hundreds of bands across New York City. As the founder and executive producer of the event, the largest and longest running of its kind, Green rarely makes it to a show. "I'm basically in the bunker running things," she admits.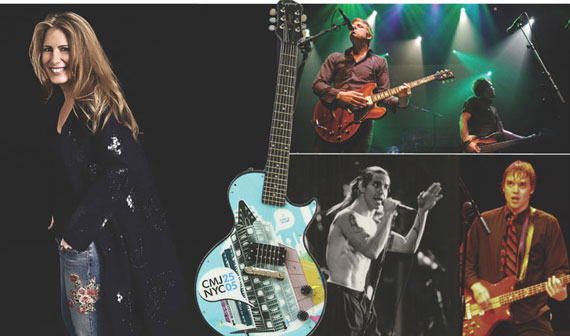 Joanne Abbot Green has turned the CMJ festival into the largest alternative–music venue of its kind. CMJ helped launch,
clockwise from top
: Spoon, Arcade Fire, and Red Hot Chili Peppers.
Of course, one bunker wouldn't be nearly enough to orchestrate the music marathon, which runs for five days in October and hosts anywhere from 800 to 1,000 bands at more than 50 venues. It is a rare showcase for up–and–coming artists, luring both fans and industry professionals looking to sign new acts. Red Hot Chili Peppers, R.E.M., and Green Day all performed at CMJ in their early years, as did the Beastie Boys, Eminem, and Black Eyed Peas. Beyond the stages and lights, marathoners can regroup and reflect at film premieres, industry panel discussions, lectures, and legal symposiums. "Part of our role is to educate musicians," Green explains. "A band will never succeed if they don't understand the business side of what they do."
Her own music education was a lifetime in the making. Though Green knew by age three that she wanted to be involved in music—her mother is a songwriter and her father a part–time jazz musician—it wasn't until she enrolled at the Steinhardt School of Culture, Education, and Human Development that her career took shape. "It was there that I fell in love with the business side of things," she says, "which is not something I expected." Green earned her degree in music business technology in 1980 and later interviewed with Robert Haber, a former radio DJ at Brandeis University who in 1978 had founded College Media Journal, a programming aid for college radio stations. Haber, who was then publishing out of a basement in Mineola, Long Island, didn't have a staff position for Green but soon approached her with the idea for a music festival that would showcase new artists. "I come from a classical background," Green says, "and my focus was never on indie and college rock. But I said, 'Sure, I'll take the challenge.' "
In 1983, Green staged the very first music marathon, a relatively small affair with roughly 10 shows and a handful of panels around lower Manhattan. In the years since, the event and the CMJ brand have grown exponentially, benefiting from the mainstreaming of alternative and indie music in the early 1990s. The company now produces a variety of publications, live events, and compilation CDs, as well as the annual CMJ Film Festival and a syndicated show on satellite radio.
But for Green, CMJ is far more than a business. She and Haber married in 1988, and together have three daughters. And though she and Haber sold the company during the late–1990s dot–com boom, they bought it back in 2001, and are now primary owners of CMJ Network, Inc. She is especially proud that they have moved the marathon's headquarters from Lincoln Center back to the NYU campus, the first time the event has been stationed downtown since the early '90s. And each year she provides the Steinhardt music department with more than 500 free badges for students. Green says: "In a way, it feels like this has all come full circle."
---
photos courtesy of cmj