January 2001
The university launches its most ambitious fund–raising campaign ever with a "quiet phase" to gather momentum and leadership support.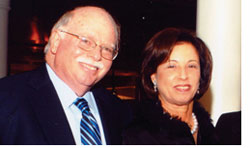 April 2001
The Steinhardt School of Culture, Education, and Human Development is renamed after a landmark endowment gift from Trustees Michael and Judy Steinhardt (left).

August 2001
Campaign total $182 Million.
September 2001
The School of Law breaks ground on Furman Hall, the first construction in the city to begin following 9/11.
February 2002
Estate of Julius Silver endows professorships in the Faculty of Arts and Science with $150 million. The Main Building is renamed in his honor.
July 2002
The Petrie Scholarship Fund is established to support undergrads and law students with academic merit, good character, and financial need. Since that time, there have been almost 200 Petrie Scholars.
August 2002
Campaign total $514 Million
January 2003

Trustee William Berkley endows joint professorships in economics, advancing collaboration between the Leonard N. Stern School of Business and the Faculty of Arts and Science.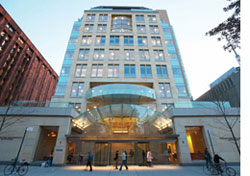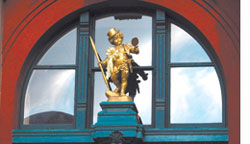 June 2003
The Helen and Martin Kimmel Center for University Life (left), overlooking Washington Square Park, becomes the new campus center.
NYU signs lease for three floors in the historic Puck Building. The Robert F. Wagner Graduate School of Public Service moves in.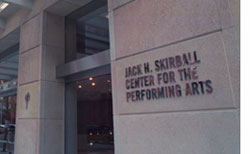 August 2003
Campaign total $882 Million. The 860–seat Jack H. Skirball Center for the Performing Arts opens and becomes the leading downtown performance venue for young artists and audiences.
August 2004
Campaign total $1.09 Billion
September 2004
The Campaign for NYU goes public with a gala dinner, featuring a performance by NYU parent Billy Joel (below); the university announces the Partners Plan, which, with donations and other resources, will fund the hiring of 250 faculty in arts and science over five years.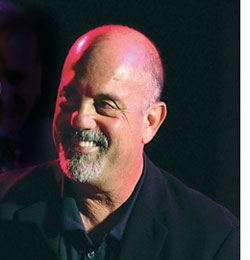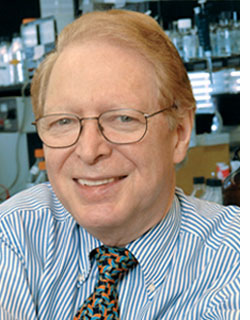 November 2004
Brine Library Commons unveiled, offering transformed student study spaces, and research and reference centers, on the lower levels of Bobst Library.

March 2005
The Tisch Family pledges a $50 million signature gift to support initiatives across campus.
August 2005
Using royalties from Remicade, a widely used anti–inflammatory he helped to develop, NYU microbiology professor Jan T. Vilcek (left) pledges $105 million to the School of Medicine. Campaign total $1.42 Billion.
January 2006
The Wasserman Center for Career Development opens its new home in the Palladium Residence Hall, offering expanded services to students, alumni, and employers.
April 2006
NYU launches a special scholarship fund–raising initiative in connection with the university's 175th anniversary, raising more than $128 million in support of 661 new and preexisting scholarships.
May 2006
A $200 million gift from the Leon Levy Foundation helps establish the Institute for the Study of the Ancient World in a town house on East 84th Street. On the East River, the 230,000–square–foot Joan and Joel Smilow Research Center opens at the Medical Center. The Jeffrey S. Gould Welcome Center carves out a new gateway for visitors.
August 2006
Campaign total $1.81 Billion.
April 2007
The Gallatin School of Individualized Study undergoes a $27 million renovation that nearly doubles its size.
August 2007
Campaign total $2.22 Billion.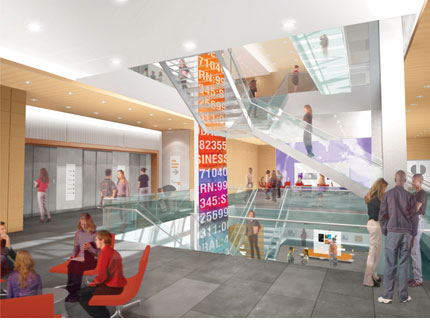 September 2007
The Stern School of Business launches the $35 million Concourse Project (above) to connect Tisch Hall, the Kaufman Management Center, and Shimkin Hall with a multistory atrium as its centerpiece.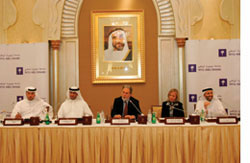 October 2007
The Silver School of Social Work is renamed in recognition of a $50 million gift from Constance (SSSW '78, '79) and Martin (STERN '58) Silver.
The university reaches an agreement with representatives of the emirate of Abu Dhabi (left) to create NYU Abu Dhabi, the first comprehensive liberal arts campus to be operated abroad by a major U.S. research university.
Tisch School of the Arts (below) and School of Law both launch specialized degree–granting programs in Singapore.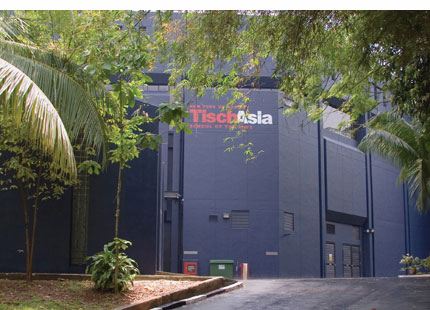 December 2007
Campaign total $2.5 Billion. The Campaign for NYU surpasses $2.5 billion goal, eight months ahead of schedule.
April 2008
Langone Medical Center is renamed in honor of a $200 million gift, its largest ever, from Kenneth and Elaine Langone. NYU Schack Institute of Real Estate is named in honor of a $10 million gift from the Schack family—the largest gift ever to the institute and the School of Continuing and Professional Studies.
May 2008
Banco Santander supports global initiatives by establishing scholarships for undergraduates studying abroad, fellowships for students in the Creative Writing in Spanish program, and fellowships for foreign visiting faculty.
August 2008
Trustee Helen Kimmel pledges $150 million to the NYU Langone Medical Center to build the Helen L. and Martin S. Kimmel Pavilion, a state–of–the–art "green" hospital and patient care facility specializing in cardiovascular medicine and surgery, neurological care, and cancer treatment. Various members of the Tisch family contribute in excess of $100 million toward renovations to Tisch Hospital at the NYU Langone Medical Center, including an enhanced emergency department, patient rooms, and a new family resource center.
August 31, 2008
Campaign ends with more than $3.0 Billion.
---
all photos except when indicated courtesy nyu