technology
Off the Wall Coverage
by Renée Alfuso / CAS '06
Early in the primaries, CNN correspondent John King seemed to channel John Madden. He poked at an oversize screen, drawing a squiggly line here to separate regions on a state map and circles there to highlight pockets of the Democratic vote, as if he were analyzing a touchdown strategy. The political play–by–plays were brought to life with a seven–and–a–half–foot "Magic Wall" monitor that could simultaneously pull up vote totals from multiple races, zoom in on counties, and summon charts and graphs, all with a few touches of the screen.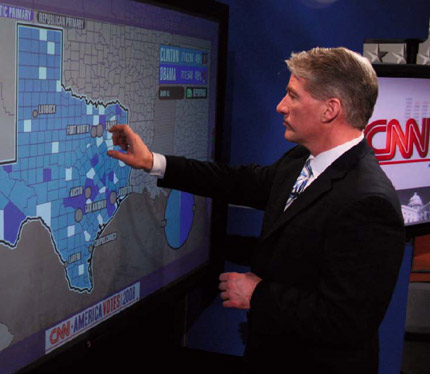 resembling a supersize iphone, cnn's "magic wall" pulled in viewers during the election primaries.
The man behind the "magic" is Jeff Han, who was working as a computer scientist at the Courant Institute of Mathematical Sciences when he conceived of his "Multi–touch Wall," originally intended for group computing. CNN unveiled the device during the Iowa caucuses in January 2008 and has used it to simplify election results, often in real time. How's Obama doing in Bloomington? Some quick finger taps and viewers were zipping through Indiana to find out. "It's really helping what news production is for," Han says, "to disseminate information, educate the viewer, and break down a complicated thing like these multiple elections."
The new technology appears to pay off: CNN routinely drew more viewers during the primaries than either MSNBC or Fox News Channel and took the lead in the key prime–time demographic of 25– to 54–year–olds for the first time since 2001. Meanwhile, Han's invention secured him a spot on Time's 2008 list of the world's 100 most influential people, and his clients now include film production companies, the government, and even Fox, which followed CNN with a wall of their own, dubbed the "Bill–board."
---
photo © perceptive pixel,inc.