COUTURE
Fashion Forward
Young designers stake a new claim on the catwalk
by Megan Doll / GSAS '08
Fashion maven Sonia Huang (CAS '99) bubbles over with excitement. Flitting about Suite Orchard in an emerald–hued disco romper from the fashion line Soni & Cindy, which she co–designs with her sister, Huang makes final preparations for the boutique's one–year anniversary party. "I'm so nervous!" she exclaims. "I feel like it's my wedding day!"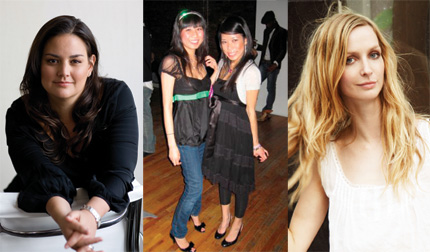 The frothy, fluid garments that normally fill the Lower East Side boutique—with its pink, white, and gray–striped walls—have been spirited away to the basement to make space. The host's impossibly stylish clothes, vertigo–inducing shoes, and candy– colored cocktail—it's like stepping into a chapter of chick lit. "Our line is girly, edgy, and flirty," Huang explains. "We like things with hearts and bows and stars on them."
When she opened Suite Orchard, Huang joined the growing number of young designers who are foregoing the classical formation once expected of modistes. With a combination of on–the–job training and intuition, the former psychology student with no formal fashion education represents a new charge of aspiring designers. Spurred on by television shows such as Project Runway, featuring contestants with diverse backgrounds and varying degrees of experience (and which was at least partly responsible for doubling the enrollment in the fashion department at Parsons the New School for Design), and helped in no small part by the Internet revolution, they are refashioning the field.
Melissa Coker (STERN '00), the Renaissance woman behind Wren Clothing, is the embodiment of the new interdisciplinary designer. "I know a lot of designers who have a variety of backgrounds, from the more traditional—going to design school—to the completely nontraditional," she says. While studying marketing and international business at Stern, she held internships at W magazine and Helmut Lang, before landing her first job out of college at Vogue. After several years in the magazine industry, Coker accepted a job at Abercrombie & Fitch as a trend–forecaster, thus launching her career in apparel. Founding her line one year ago, Coker sees value in her circuitous career track: "My editorial skills combined with my designing background combined with my business background created a great foundation on which to start my own business."
As the Internet has become the Silk Road of the 21st century, a newcomer's best hope of receiving public recognition often lies on its path. "I feel like new media outlets are willing to take a chance on new designers because they need more content, just by definition of how the Internet operates," says Coker, who exhibited media acumen at L.A.'s Fashion Week last spring, collaborating with a filmmaker friend on videos to accompany the runway presentation of her "tarnished opulence" fall collection.
One mention on coveted mainstream fashion Web sites such as DailyCandy.com and style.com can translate into a cacophony of chatter in the blogosphere. Alexandra O'Neill (CAS '08)—a dewy, young designer who co–founded Porter Grey with her older sister, Kristen—can attest to the Internet's echo–chamber effect. "We had a great article on DailyCandy.com, and we've noticed that we're coming up on blogs now," says O'Neill, whose two–year–old line of classic pieces fused with contemporary details has already received an enviable amount of attention from new and traditional media alike. Other designers are actively exploiting the horizons opened up by the Web, advertising their talents on MySpace and Facebook.
But with television and the Internet galvanizing a generation of sartorial aspirants, the field has become saturated with would–be Lagerfelds. Julie Chaiken (STERN '93), a seasoned fashion veteran, considers differentiation the greatest challenge facing young designers today. "The consumer is overwhelmed with choices, so it's harder in today's world to stand out," Chaiken notes, speaking from 14 years of experience as the head of Chaiken Clothing. Her own designs—created in an aesthetic termed "New American Luxury" by the couturiere—have caught the eyes of such celebrity A–listers as Angelina Jolie and Oprah Winfrey.
So what is a fledgling fashionista to do? One way for designers to survive in a market saturated by domestic designers is to venture over international borders. While big labels have always done that, it's increasingly necessary for small start–ups to broaden their appeal as well. "We will be exporting more product and becoming more global," Chaiken says, because focusing on the American market isn't "realistic anymore."
And many burgeoning designers have already branched out internationally. Up–and–coming menswear designer Adam Kimmel (CAS '01) brought his bohemian catwalk–and–model–eschewing panache last winter to Florence's Pitti Uomo, a prestigious world fashion preview, earning rave reviews from the International Herald Tribune. O'Neill's Porter Grey, already represented by one store in Ireland, debuts in seven stores in Japan this fall. And the Huang sisters' pieces can be found on racks in Canada, Australia, and even Dubai. "I've always wanted to go to Dubai," Sonia Huang declares, beaming at the prospect of a business trip.
---
photos from left: Drew Altizer, courtesy of Soni & Cindy, Eric Ray Davidson