filmmaking
King of Crass
Hangover director Todd Phillips reinvents the summer blockbuster
by Kevin Fallon / CAS '09
Boy wizards, warring robots, superheroes in spandex, drunken pirates, and talking animals. These are the historic pillars of Hollywood summer blockbusters. But thanks to three men with splitting headaches and a rogue tiger, the industry has discovered a new way to sell tickets on a massive scale. Director Todd Phillips (TSOA '94) is the man behind the bawdy, box-office-shattering comedies The Hangover (2009) and The Hangover Part II (2011). The films each raked in more than $480 million worldwide, rivaling the gross of franchise hits such as Transformers and X-Men—but without the costly special effects. In fact, The Hangover Part II is the highest-grossing R-rated comedy ever, only surpassing the first Hangover film.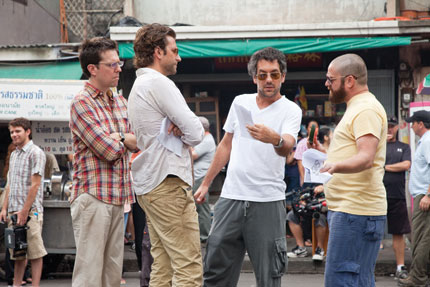 Phillips (center) shot The Hangover Part II on location in Bangkok, Thailand, with stars Ed Helms, Bradley Cooper, and Zach Galifianakis.
This, of course, has made Phillips, 40, something of a Hollywood darling, which is "definitely bizarre, but flattering," he says. The filmmaker, who built renown on the backs of gratuitous "frat comedies" such as Road Trip (2000), Old School (2003), and Starsky & Hutch (2004), is perhaps most proud that his latest movie was labeled "the raunchiest mainstream comedy of all time." And now he's in demand as a producer as well, having just wrapped the ensemble comedy Project X, for which he's credited with discovering a cast of unknown actors likely poised for big breaks. Is it all a little overwhelming? The Brooklyn-born Phillips concedes: "It's a long way from living on Seventh Street and Avenue B and going to Christine Choy's documentary class, for sure."
Phillips grew up on Long Island, raised by his mother and two older sisters, and fed by the movies of John Landis and Ivan Reitman, which inspired him to go to film school. He describes his time at NYU as an education in culture—broadening his film taste beyond Animal House and Stripes. "You're exposed to things you wouldn't be on Long Island at your local video store," he says. His early cinematic endeavors reflect that change. His first film, a documentary called Hated (1994) about controversial punk rocker GG Allin, began as a project for Choy's documentary-film course, which he took for four semesters. Phillips focused on documentaries because he imagined himself too inexperienced to write believable screenplays. "When you're 18 years old, unless you're a naturally gifted writer, which I wasn't, you don't have a lot of stories to tell yet," he says. While interning at HBO, he shot his second documentary, Frat House (1998), about the darker side of Greek life—from frightening hazing rituals to dangerous party habits. It won the Grand Jury Prize at the Sundance Film Festival in 1998, and became emblematic of themes he would explore in his later works.
His first feature, Road Trip, could easily be viewed as a comedic spin-off of Frat House. Released in 2000, it was born out of an introduction with Ghostbusters and Meatballs director Reitman (who executive-produced the film) at Sundance. Rife with nudity and other explicit content, the film grossed more than $120 million worldwide and set the tone for the, in Phillips's words, "unapologetic and aggressive" comedy he would become famous for—such as Will Ferrell streaking in Old School. Borat (2006), which Phillips co-wrote and which Newsweek called "game-changing" for how warmly audiences received its utter political incorrectness, even earned an Oscar nomination (for Best Adapted Screenplay). "Other comedies that come out of Hollywood have bad behavior, but most of them spend the last 15 minutes of the movie apologizing for [it]," he says. "Movies that I make revel in the bad behavior."
Nowhere is that more on display than in his Hangover films. The first movie featured, among other scenes of debauchery, characters simulating masturbation on a baby. In addition to rampant drug use and explicit language, The Hangover Part II boasts what has been described in reviews as "a shocking array of penises." Reitman credits Phillips with pushing the boundaries of what's commercially viable. "It's a last frontier thing," Reitman told The Hollywood Reporter, adding that Phillips is "upping the ante in terms of erotic explicitness." For his part, Phillips is equally unapologetic about that, too. "I'm an R-rated person in general and always have been," he says. "It's hard for me to have conversations that are PG-13, let alone make a movie that is." But is there a line? Only occasionally, he maintains, does he stop and question, as he did during the baby scene,"how this will play in Peoria."
Phillips's Hangover star Zach Galifianakis once described him as having "this cockiness that, for a skinny nerd from Brooklyn, is really weird." Certainly a fondness for expletives and a summer fling with Paris Hilton attest to that confidence. But there's a self-deprecating humility and love for his craft underneath that. This combination enables his films to transcend mere tastelessness, tapping into the heart in his characters. And the industry has noticed. After Old School, Steven Spielberg sent him a fan letter praising his work. The first Hangover film won the Golden Globe Award for Best Musical or Comedy in 2010, beating out two Meryl Streep films. But the icing on the cake was a handwritten letter from Emma Thompson. "It was about how much she just loved The Hangover, and how much she thinks a movie like that just adds joy to the world," he says. "I like when people put it in perspective. You're not really trying to change the world, you're trying to put a good movie out there. And put people in a better mood."
---
Photo © Melinda Sue Gordon


"Other comedies have bad behavior, but most of them spend the last 15 minutes apologizing for [it]. My movies revel in the bad behavior."