Letter from the Editors
The life of an editor can be literally sweet. For these pages, in addition to reviewing best-selling books, exploring pivotal research, and interviewing scholars and celebrities, we were required to taste-test gourmet doughnuts
("
Best of New York
"). Call it the icing on the cruller of Issue 17, in which we were yet again amazed to discover the legions of fascinating and talented people associated with NYU.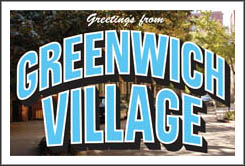 In this issue, we chose to feature three alumni whose life's work was trailblazing in their fields—photography, the music business, and civil rights. But as the stories unfolded, we realized that they all shared a common thread: Their careers were crystallized in the turbulent 1960s. Robert Gomel ("A Thousand Words") is a former Life photographer who was present at pretty much every major moment of that decade. His iconic photos elicited a collective "Cool!" from our office, and we knew we had to share them with fellow alums. Also "cool" was sitting across the table from the legendary Clive Davis ("The Man With the Platinum Ears") as he discussed the evolution of his career. Davis discovered his musical ear at the Monterey Pop Festival in 1967 and, at 79, is still searching for new stars while also regularly appearing on American Idol. Finally, we are proud to profile Edith Windsor ("When a Woman Loves a Woman"), whose judicial fight over taxes may just topple the Defense of Marriage Act. At 82, Windsor champions gay rights with the same fervor she had following the 1969 Stonewall Riots.
Lastly, some news to share: We're proud to report that the magazine won two 2011 Circle of Excellence awards from the nonprofit Council for Advancement and Support of Education. We received a bronze for College and University General Interest Magazines with a subscription of more than 75,000, and another bronze for Excellence in Design for our Spring 2010 cover, "The Icon That Almost Wasn't," which featured a photo by Joel Sternfeld of New York City's High Line before it was revamped as a public park. Whether it's through one story or many, we hope the Fall 2011 issue sweetens your season, too.
Cheers,
The Alumni Magazine Team
---