theater
A Playwright With Punch
Kristoffer Diaz's brash narrative style helps ease America's "uncomfortable conversations"
by Justin Warner
Kristoffer Diaz's love affair with professional wrestling started as a kid in the 1980s, when flamboyantly macho characters such as Hulk Hogan, "Rowdy" Roddy Piper, and future Minnesota Governor Jesse "The Body" Ventura ruled the ring. Diaz (GAL '99, TSOA '02) obsessively followed matches, collected action figures, and even immersed himself in role-playing games (think Dungeons & Dragons with wrestlers). Though his passion waned somewhat in high school, it rebounded in the late 1990s as a renaissance at World Wrestling Entertainment, or WWE, spawned Dwayne "The Rock" Johnson and Stone Cold Steve Austin. His encyclopedic knowledge landed him a side job as one of the first professional-wrestling bloggers. It wasn't highbrow work for someone with a master's from the Rita and Burton Goldberg Department of Dramatic Writing in the Tisch School of the Arts, but Diaz felt truly lucky to land the position. And that luck kept paying off—the gig inspired him to pen a play that was nominated for the 2009 Pulitzer Prize in Drama.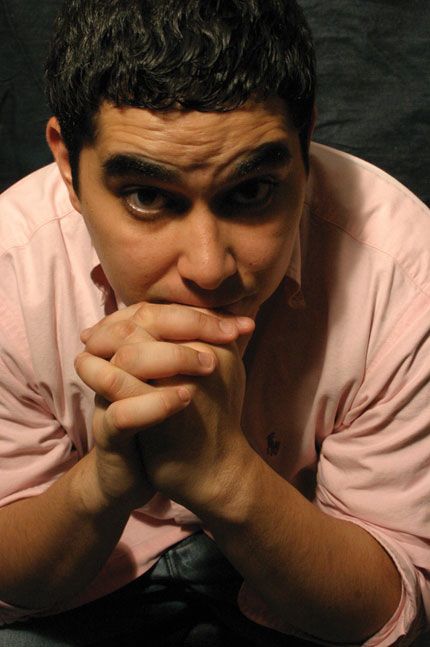 Diaz's unconventional writing style helped his latest play become a finalist for the 2009 Pulitzer Prize in Drama.
The Elaborate Entrance of Chad Deity—which uses wrestling's decidedly unsubtle milieu to explore thorny issues of racial identity, authenticity, and American culture—was originally produced by the Victory Gardens Theater in Chicago in 2009, and then off-Broadway by Second Stage Theatre the following spring. Reviewers swooned. The New York Times' Ben Brantley welcomed the "delicious crackle and pop of a galloping, honest-to-God, all-American satire." Backstage said that the play "will body-slam you to the canvas with a one-two punch of political satire and theatrical showmanship." In addition to being a Pulitzer finalist, Chad Deity snagged the Obie and Lucille Lortel awards for Best Play.
Chad Deity's narrative stems from a controversy that erupted during Diaz's stint in the early blogosphere. In December 2004, WWE introduced Muhammad Hassan, a patriotic Muslim-American wrestler facing harassment in post-9/11 society. (True to wrestling's artifice, Hassan was played by Mark Copani, an Italian-American from Syracuse, New York.) At a time when many pundits and politicians wore xenophobia like a badge of honor, presenting a beefy Muslim as a misunderstood good guy sparked tremendous buzz, with Diaz and others impressed by the risky choice. But Hassan and his creators soon retreated back into stereotypes. "It fell apart very quickly and turned into 'Oh, you actually are a terrorist,' " Diaz recalls.
Diaz, who the Times recently presented with its 2011 Outstanding Playwright Award, had spent a lot of time thinking about race as a Puerto Rican raised in a predominately Jewish enclave of Westchester County. At a young age, Diaz noticed how his own affect shifted from one environment to another. "You don't think of it in racial or ethnic terms, but you know the difference between spending time with your Jewish friends in Yonkers and your Puerto Rican cousins, basically in the street in the Bronx," he explains.
showboat Chad Deity is the title character of Diaz's hit play, which uses a wrestling ring to examine race issues.
Such contrasts run throughout Chad Deity. Mace, the protagonist, is a Puerto Rican wrestler who gets paid to lose matches, and worries about the social and personal cost of being a Latino fall guy. The title character, a bling-laden showboat who refers to himself in the third person, represents a new black stereotype that obliterates any discussion of racial self-consciousness. And then there's the Fundamentalist, a terrorist "bad guy" played by an Indian-American ethnic chameleon, whom Mace plucks from obscurity and quickly loses control over. These characters inhabit an America that hasn't fully shifted from a black-white concept of race. "You talk about Latino being a race constructed of other races—what the hell is that?" Diaz asks. "The whole language is insufficient. But at the same time, it's a conversation that needs to be had."
Just don't expect that conversation to come about in a conventional fashion. Diaz's plays—which total six in all—interweave traditional scenes, direct-address monologues, PowerPoint presentations, and, in the case of his first play, Welcome to Arroyo's, break dancing and beatboxing. Characters comment on the play's theatrical devices, and then comment on the comments. "There's something about that kind of style that helps me actually say what I want to say, which is not straightforward," Diaz explains. "I think it also has to do with growing up in the MTV generation, and now the Twitter generation…I don't think narrative can be simple today in the way it may have been in the past. Because we do bounce around." Fittingly, Diaz says he usually writes in multimedia hurricanes of his own creation: "I have Facebook open, and Twitter open, and the television's on—with no sound—and then I have music on, playing something else."
When he's not making art, he's nurturing new artists. For years, Diaz has taught and mentored young writers at numerous public schools in New York, including El Puente Academy for Peace and Justice in Brooklyn. He's also busy keeping up with Chad Deity's ever-expanding calendar—new productions of the play are in the works at the Actors Theatre of Louisville and the Geffen Playhouse in Los Angeles. Meanwhile, L.A.'s Center Theatre Group, Chicago's Goodman Theatre, and the Oregon Shakespeare Festival have all commissioned new works from Diaz. Although it can be overwhelming, the 34-year-old keeps perspective on how hard it is for most young playwrights to break through. "It's unbelievable," he concedes. "For a first production to explode like this, on a play that feels very much like my voice on my terms—I'm very, very lucky."
---
Photos from top: © Ileia Burgos; © Joan Marcus


"Growing up in the MTV generation, and now the Twitter generation…I don't think narrative can be simple today in the way it may have been in the past."