fashion
Music That Wears Well
They're paired with skinny jeans and a scarf at Urban Outfitters. They're on the rack next to the LnA collection at Bloomingdale's. They're pictured in the pages of
Nylon
magazine and on
Vogue
's blog. Jeremy Wineberg's Music Tees have arrived—now if only they were easier to explain.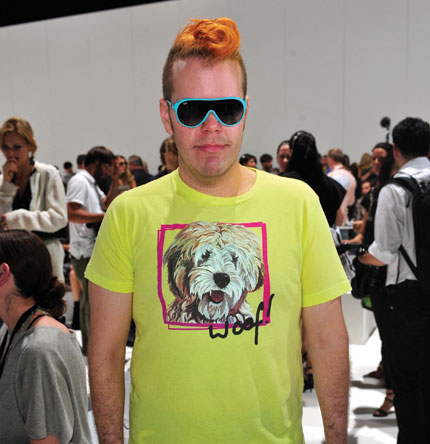 Wineberg (GAL '11) came up with the idea to put the cover art (on front) and track names (back) from new albums onto T-shirts. Simple enough, right? But the shirts also come with a tag displaying a code that enables fashionistas to download the album from Music Tee's Web site. And despite Wineberg's initial difficulty explaining the concept—he kept reinforcing that the shirt doesn't actually play music—Music Tees have attracted a cultish following and collaboration with artists such as David Gray, Mos Def, and Perez Hilton (TSOA '00), pictured above. "It's still fairly new but has this cool factor," Wineberg says.
The grad student will soon expand his fashion horizons with the Movie Tee, which features art from upcoming films and lets wearers download them after release. Just think Netflix meets American Apparel.
—Lori Higginbotham

---
Photo © Getty Images