book club
What I'm Reading
Poet and Author Stephen Haven
Stephen Haven (GSAS '95) doesn't fit the poet stereotype. He's just as happy talking about the Boston Celtics as he is Byron. And in addition to holding an MFA in poetry from the University of Iowa, he went on to earn a PhD in American Civilization at NYU, which helps him write with both poise and intimacy about everything from abstract expressionists Mark Rothko and Barnett Newman to his time spent touring China as a Fulbright lecturer.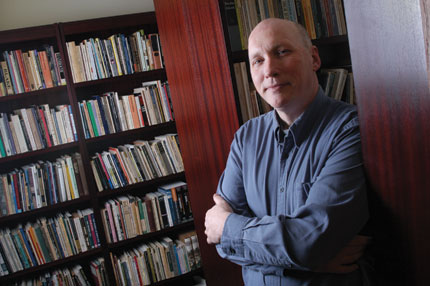 The author more recently penned The River Lock: One Boy's Life Along the Mohawk (Syracuse University Press) about his conflicted adolescent years with a minister father in an Upstate New York mill town. The memoir was nominated for a National Book Award in 2008, and Haven, currently an English professor and director of the MFA program at Ashland University, was named Co-Ohio Poet of the Year in 2009.
What are you reading?
I recently finished a book by [artist and writer] Nicolai Cikovsky about George Inness [American painter known for his nature studies].
Why George Inness?
I'm writing a poem about his painting Summer Landscape 1894, so I decided to read a critical biography of his life. I believe it was one of the last paintings he completed before his death. I'm also reading about 10 pages an hour of this thick philosophy book, The Beauty of the Infinite: The Aesthetics of Christian Truth, by theologian David Bentley Hart, and I'm holding my breath to see if it will influence my writing in about 10 years.
Do you have any hobbies that influence what you read?
I'm an NBA basketball fan. Bill Russell [Celtics center from 1956–69] was a hero in my childhood, so I read everything I could about the Boston Celtics. In graduate school at the University of Iowa, I took a class with a Melville scholar who was also a rabbi, Jay Holstein. He loved basketball, and he gave me biographies of Russell with all the savory details [of Russell's wild personal life] that I wasn't allowed as a child. So I was studying Melville with a rabbi who knew more about basketball than I did.
—Lori Higginbotham

---
Photo © Allison Hoover