the insider
Best of New York
NYU faculty, staff, and alumni offer up their Favorites
by Renée Alfuso / CAS '06
As temperatures rise, keep cool with a day at the beach or cocktails on the Hudson
Marathon Man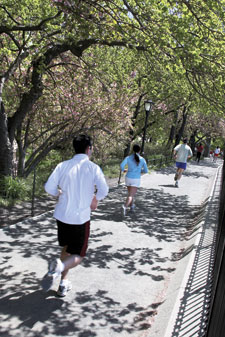 When Joe Salvatore, who teaches educational theater at the Steinhardt School of Culture, Education, and Human Development, started training for his first New York City Marathon last year, he fell into the familiar regimen of running and recovering. The first part he satisfied in Central Park, which provides perfect running terrain with its six-mile loop, meandering paths, and unexpected hills. Plus, the final stretch of the marathon takes place in the park, so practicing there paid off for Salvatore, who met his goal of finishing in less than three hours and 40 minutes—with six seconds to spare. "The last two miles were probably the toughest," he says. "Central Park South felt like it went on forever—like Columbus Circle kept moving away from me as I ran toward it." After, he rewarded himself with pizza and french fries—and a massage at Renew & Relax. At just $50 for a 50-minute rubdown, Salvatore says, it's one of the city's most affordable spas.
50 Third Avenue (btw. 10th and 11th Streets), 212-388-9821
www.renewandrelaxspa.com
---
Rock the Boat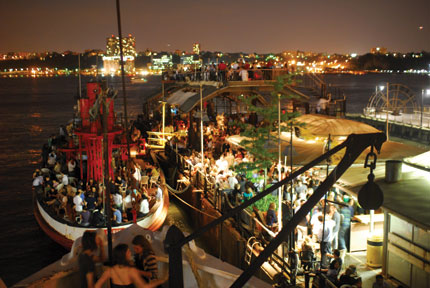 Growing up just outside the city that never sleeps turned Isabelle Dungan (GAL '06) into an expert night owl. And she knows that because outdoor space is such a hot commodity in the spring, most rooftop bars are either too cheesy or ultraexclusive. One exception is the roof garden café at the Metropolitan Museum of Art, where Dungan says the open-air art exhibits and view of Central Park make it perfect for drinks at sunset. For a more unusual setting, climb aboard the Frying Pan—an historic lightship built in 1929 that sat at the bottom of the Chesapeake Bay for three years before being resurrected as a funky bar docked at Chelsea Piers. Dungan has been visiting the Frying Pan since discovering its eclectic live music and DJs, and still loves to explore the ship's unusual nooks and crannies, complete with rusty, barnacle-covered walls. "You feel like you're on something that's from another time," she explains. "It's not just your run-of-the-mill rooftop." Try your sea legs on the massive dance floor or head upstairs to enjoy views of the Hudson River and the ship's surf-and-turf menu.
Pier 66 (at West 26th Street and West Side Highway), 212-989-6363
www.fryingpan.com
---
Saigon Sub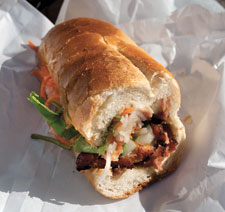 New York magazine recently hailed the bánh mì as "the most addictive new sandwich in town." Maybe it's the layers of pork stuffed into a crispy baguette, or the combination of sweet and spicy pickled vegetables, hot peppers, mayonnaise, and cilantro, but New Yorkers can't seem to get enough of the Vietnamese import. "It's just gathered so much more mainstream appeal in the past year," says Duy Nguyen, an assistant professor in the Silver School of Social Work who grew up eating Vietnamese cuisine. Many stylish eateries have given the sandwich a gourmet makeover—and price tag—but Nguyen notes that the classic bánh mì is simply cheap and tasty street food. "It's not a meal that I would associate with sitting down at a restaurant and ordering," he says. "I expect more of a no-frills-type place." So for the real thing, Nguyen suggests Bánh Mì Saigon Bakery, which was serving the sandwich long before it became a craze. The tiny counter is tucked into the back of a Chinatown jewelry store, but that doesn't stop hungry crowds from lining up daily. The freshly baked bread is filled to capacity and, at less than $4, is a rare deal for the Big Apple.
138 Mott Street (nr. Grand), 212-941-1541
---
Outer-Borough Oasis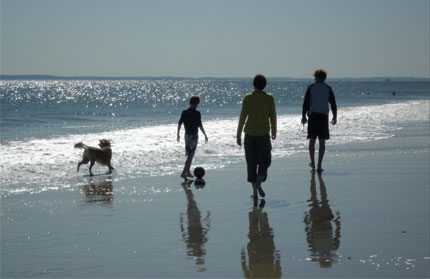 When things heat up in the summer, most local beaches are overrun with hordes fleeing the city's hot concrete in search of a cool ocean breeze. So Brooklyn native Dante DeSole (STEINHARDT '91) was surprised when he and his son stumbled upon Jacob Riis Park in the Rockaways. "I thought it was odd that it wasn't crowded," he remembers, but this out-of-the-way oasis isn't as easy to reach as Coney Island or Manhattan Beach. One must drive, or catch a bus or ferry, but DeSole says it's worth the extra effort. And without any amusement park rides or concession stands, Jacob Riis is an ideal spot for more traditional activities such as surfing, picnics, and volleyball. Those seeking shelter from the sun can explore the grand Art Deco bathhouse—an architectural landmark opened in 1932 that now houses historic exhibits and adds to the shore's striking view. "If you turn around, you can see the Manhattan skyline from the top of the beach," DeSole says. "But you just don't feel like you're in the city."
Rockaway Beach Boulevard (at Channel Drive) in Queens, 718-318-4300
www.nyharborparks.org
---
photos from top: Frank Celenza / theyoungandhungry.com; iStock; Opto Design (2)