poverty
Breaking the Cycle?
A revolutionary program offers cash to the poor for meeting healthful goals
by John Bringardner / GSAS '03
It was the fall of 2005, and Michael Bloomberg felt good about his chances for reelection. His first four years as mayor of New York City had been marked by bold school and health initiatives, not to mention tremendous economic growth. But his opponent, Bronx Democrat Fernando Ferrer, was gaining ground by hitching his campaign to one major issue the billionaire couldn't boast about: poverty. Even as the city had prospered overall under the Bloomberg administration, poverty remained steady at 19 percent, one of the highest levels in the country. Attempting to defuse Ferrer's attacks, Bloomberg named a blue-ribbon commission to tackle the issue.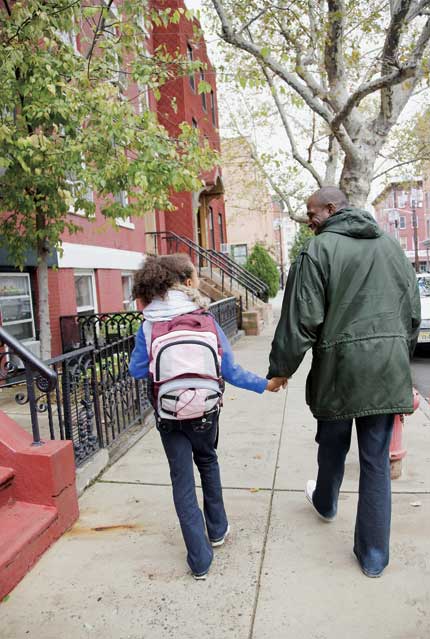 opportunity nyc offers $25-$600 for meeting goals covering education, health care, and jobs.
And they did. After winning a second term, Bloomberg pushed his commission for ideas. One member, J. Lawrence Aber, professor of applied psychology at the Steinhardt School of Culture, Education, and Human Development, suggested a study of so-called conditional cash transfer programs, known as CCT, that had effectively reduced poverty in rural Mexico and Brazil. Oportunidades had revolutionized welfare in Mexico by giving money to the poor in return for completing certain goals, like enrolling their children in school and making regular doctor visits. It was designed to break the cycle of poverty by providing poor families with the cash to meet short-term needs, like buying food, while incentivizing habits that lead to better physical and financial health in the long-term. A quarter of that country now participates in the program, and by 2006, nine years after its start, extreme poverty in Mexico had dropped from 37.4 percent to 13.8 percent. The commission, and the mayor, were intrigued. "I think Bloomberg liked it because we use incentives in every other segment of society," Aber says. "Tax breaks for the wealthy, tax breaks on mortgages for the middle class. Why would we exclude poor people?"
Opportunity NYC—a CCT sponsored entirely by private groups and run by two nonprofits—launched in 2007 with about 4,800 families and 11,000 children receiving benefits for an initial three-year run. The program works by offering a series of financial incentives—ranging in value from $25 to $600—for meeting any of a list of 22 goals for both parents and children, covering education, health care, and job skills. Going for an annual medical check-up is worth $200. Graduating from high school is worth $400. No restrictions are placed on how participants spend the money, and it's not counted against eligibility for government programs, such as welfare. The incentives are especially helpful for parents who, say, must take time off from an hourly paid job to take a child to the clinic. "It's not bribing people to do the right thing," Aber says. "It's reducing the opportunity costs."
This February, Aber and MDRC, one of the nonprofit groups running Opportunity NYC, released the first report on the program's progress, with mixed results. By the end of 2008, more than $14 million had been paid out to families. Ninety-eight percent of the participants received money, averaging more than $6,000 per family in the first two years. While the program had cut "severe poverty" by nearly half, reduced food insecurity, and improved banking skills and savings—the short-term effects it was supposed to have—the researchers noted no change in student achievement, especially New York State Regents test scores among fourth and seventh graders. Though long-term poverty reduction is the ultimate goal, the program's educational incentives had dovetailed nicely with Bloomberg's earlier school reforms, and its limited effects on test scores have cast a shadow on Opportunity NYC's future.
The three-year trial run ends this August. Though the Bloomberg administration has no plans to extend it as yet, Aber and his team will continue to follow participants to see whether the positive changes brought by the program survive the loss of benefits, the true test of its effectiveness. A final report is due in 2013. How the Bloomberg administration interprets those results will determine whether Opportunity NYC becomes known as a failed experiment or if some pieces of the pilot offer new tools for reducing poverty in New York, and perhaps the rest of the country. "It's not the be all end all," Bloomberg acknowledged at a March press conference. "The responsibility we have is to try to tune the program."
---
photo © Photo Library


"We use incentives in every other segment of society....Why would we exclude poor people?"